Premier Products PLC
GRCA MEMBER
GRC Manufacturer: Premix GRC & Sprayed GRC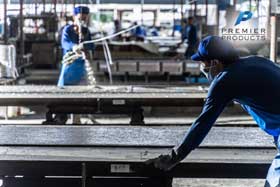 Premier Products - GRC production
PREMIER PRODUCTS PLC
2 Premier Place Building
Premier 2 Alley
Srinakarin Road
Nongbon
Prawet
BANGKOK
10250
THAILAND

Mr Deche Jiravatsatith
+66 2301 2100 1, Ext. 2242
www.premier.co.th
decha.j@pp.premier.co.th
The construction industry uses lots of resource that creates lots of pollution, which is why innovative building materials became an important role.
Innovative building materials are offering energy efficient, green ways to construct building that will hold up longer than ever before. These materials will shape the construction industry and the world as they grow in the commercial market. Here are several innovative materials that shape the construction industry.
As Thailand is one of the most important markets in Southeast Asia, Premier Products PLC. "FORZTEK" was looked a good business opportunities, has expertise in Technology for the environment innovations.
Premier Products PLC. "FORZTEK" is leading Thailand manufacturer of glass reinforced concrete products.
The company was founded in 1975 on the basis of professional experience in modern building materials research and development. Since the beginning, the company specialize glass fibre reinforced composite development and production in the field of thai and modern architecture and especially in building facade and exterior design.
As "FORZTEK" which innovative building material highly suitable for green architectural projects and prevention of health and saffety risks for workers and building users alike.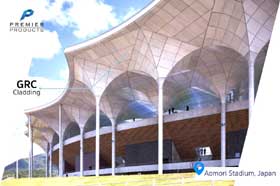 GRC Cladding - Aomori Stadium, Japan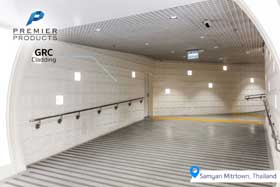 GRC Cladding - Samyan Mitrtown, Thailand