GRCA Congress
GRCA CONGRESS, HELD SINCE 1977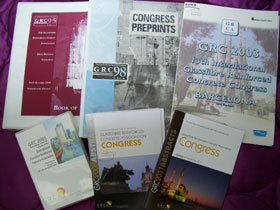 The GRCA brings together all those with an interest in Glassfibre Reinforced Concrete (GRC):
To exchange knowledge and experience concerning GRC
To promote GRC in all its valid applications and advance the interests of its members
To participate in establishing Codes of Practice and National Standards covering manufacture and performance
To organise International Conferences as a forum for discussing and disseminating GRC knowledge on materials, products and uses.
GRCA Congresses have been organised on a regular basis since the very first Congress held at the Hotel Metropole, Brighton, UK in October 1977 right up to the 17th International Congress of the GRCA which was held on the 19th-21st April 2015 at the Radison Blu, in Dubai. Extracts from past Congress Papers are available on this GRCA web site.