GRCA Congress GRC2021
GRCA CONGRESS GRC2021, LONDON, UK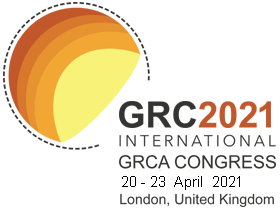 It was with great regret that the GRCA were forced to postpone the GRCA Congress originally planned for September 2020.
We are now pleased to announce that the 18th International Congress of the GRCA will now be held on
20 - 23 April 2021 at:
Congress Centre
28 Great Russell Street
London WC1B 3LS
United Kingdom.
GRCA Congress Participants:
Anyone involved in the design, specification, use and manufacture of glassfibre reinforced concrete (GRC / GFRC), including those who would like to know more about this versatile product.
GRCA Congress GRC2021 Format:
To be held over Tuesday 20 - Friday 23 April 2021.
Congress Events.
Taking place from 9.00 am to late afternoon on Wednesday 21 April & Thursday 22 April.
Welcome Reception.
To be held on the evening of Tuesday 20 April 2021.
Key-Note Speeches.
Including: "Precision Partner", "GRC and Architecture"
& "Subtractive, Additive, and Robotic Assembly".
Site visits.
To take place around London on Friday 23 April 2021.
Daily Paper Presentations.
Full Partner Programme available.
Closing Gala Dinner, with GRCA Awards Presentation.
To be held on the evening of Thursday 22 April 2021.
GRCA Congress GRC2021 Programme & Papers:
The preliminary programme for the GRCA Congress GRC2021, including the full programme of daily presentations of Papers by authors from both inside and outside of the worldwide GRC industry, has now been finalised.
Full details of the GRCA Congress GRC2021 Programme and Papers are available to download here.
Partner Programme:
A full programme of alternative events will be arranged for the Partners, of GRCA Congress attendees, who are not involved in the main Congress programme.
Accomodation for Congress Attendees:
Their is a wide choice of accomodation available in the Bloomsbury area of London for GRCA Congress GRC2021 attendees, and some hotels have special deals available for GRCA Members.
Please download the hotel sheet for further information.
GRCA Congress Tickets & Registration:
Tickets to attend the GRCA Congress GRC2021 will soon be available.
Any Questions?
If you have any further questions on any aspects of the GRCA Congress GRC2021, then please contact the GRCA on GRC2021@grca.org.uk.