Sana Al Jazira Company Ltd
GRCA MEMBER
GRC Manufacturer: Premix GRC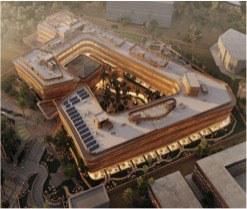 Marriot Hotel (DQ)
SANA AL JAZIRA COMPANY LTD
Office No 305B, Third Floor
Rolaco Building
Khurais Road
RIYADH
12813
KINGDOM OF SAUDI ARABIA

Mr Shamim Ahmed Baghar
+966 508274500
www.sanaaljazira.com
gm@sanaaljazira.com
Sana Al Jazira Company Ltd has professional expertise in industrial manufacturing pretexts, notably in GFRC, GRG, GRP & Painting. Their expertise is derived from their knowledge and experience, which is garnered from their projects in the Kingdom of Saudi Arabia. Currently, Sana Al Jazira are based in the city of Riyadh, whose central tenacity helps them to cater to other regions in the Kingdom as well.
Sana Al Jazira is considered one of the finest and trusted name in the field of GFRC, GRG, GRP & Painting Works in the Kingdom. The growth and success of Sana Al Jazira is attributed to its highly qualified and skilled personnel which is supported by its passionate management. Sana Al Jazira Company has successfully completed several Clients' prime projects in multiple regions of the Kingdom of Saudi Arabia with satisfactory performance and pristine accuracy.
Their products are used to enhance both commercial and residential projects. To find out more, visit the website or request a catalogue for further information.
Sana Al Jazira Main Activities:
Sana Al Jazira design, supply and retrospectively provide installation of a complete range of Glass Fibre Reinforced Concrete (GFRC), Glass Reinforced Gypsum (GRG) and Glass Reinforced Plastic (GRP) products. This includes fabricated GRP products such as canopies, window pergolas and kiosks; GFRC products such as mashrabia, columns, cornices, panels and screens and all other GRG products are also processed as per the needs of the customer. Subsequently, Sana Al Jazira also offer various painting solutions with a wide variety of options to choose from.
GFRC / GRG / GRP - Particulars
The following range of products are offered in this criteria:
Glass Reinforced Cement (GFRC) – Architectural installations such as Decorative Screens, Cladding Panels, Column, Domes, Decorative False Ceilings, A.C. Covers, Capital, Bases, Castellation, Planters, Permanent Formwork and an additional range of custom-made applications.
Glass Reinforced Gypsum (GRG) - This is a special grade gypsum used for long lasting interior applications such as Cornices, Mouldings, Columns, Capitals, Arches, Domes, Flat and Decorative Ceilings.
Glass Reinforced Plastic (GRP) – Architectural lightweight Cladding Panels, Weather resistant Cantilever Stadium Ceilings and Vaults, Logos, Emblems, Modular Buildings, Kiosks, Car Park Shades, Facias, Water Tanks, Sewage Holding Tanks, Fountains, Translucent Domes, Corrugated Roofing and Pergola.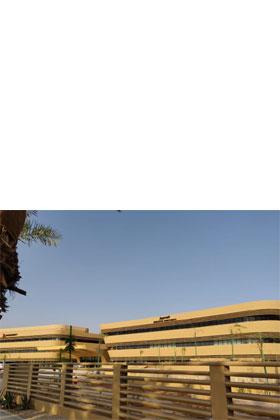 Marriot Hotel (DQ)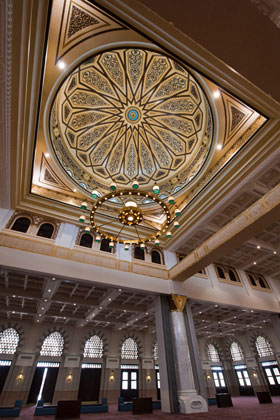 Ayoun Al Joua Mosque