A/S Magnus Holm
GRCA MEMBER
GRC Manufacturer: Sprayed GRC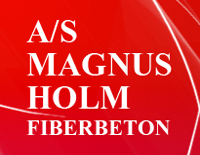 A/S MAGNUS HOLM
Allingvej 8
Oster Alling
8963 AUNING
DENMARK

Mr Holm
+45 86 49 23 55
www.fiberbeton.dk
fiberbeton@fiberbeton.dk
After a few years of operations in Denmark, A/S Magnus Holm's small element GRC factory moved to Jordan, where it is still operated today by others.
The factory was opened in time to make all the precast elements for "Queen Alia" airport of Amman in Jordan during 1978 - 1980.
Following on from this, A/S Magnus Holm were awarded a "turnkey project" contract in Iraq, to produce a total of 132,000 square meters of buildings, spread over 960 apartments with associated schools, kindergartens and the like.
In 1986 A/S Magnus Holm started producing glassfibre reinforced concrete (GRC) again in Denmark.
As the company grew they required larger premises, and in 1997 bought the current production facility at Allingvej 8 in the Baltic Alling, where they now have around 2,500 m² heated production halls, with crane handling.