GRC Synergies (Technical Services)
GRCA MEMBER
GRC Manufacturer: Premix GRC & Sprayed GRC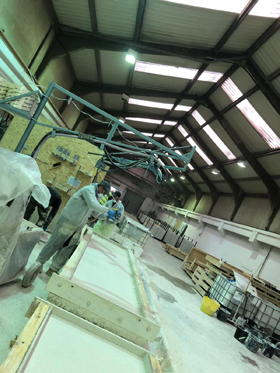 GRC SYNERGIES (TECHNICAL SERVICES) LTD
t/a SYNTEC GRC
Unit 13
The Matrix
Nobel Way
DINNINGTON
S25 3QB
UNITED KINGDOM

Mr Mr Jamie Hardacre
+44 (0)1909 547066
www.grcsynergies.com
jamie.hardacre@pbs-synergies.com


@GRCSynergies
Syntec GRC is a member of the PBS Synergies Group which has a vast experience in the manufacture of GRC products having originally founded and operated for 5 years fellow GRCA Member GRCUK. The PBS Synergies Group has a proven track record of delivering the most challenging of GRC projects and works for most of Europe's leading façade specialists.
GRC Synergies (Technical Services) t/a Syntec GRC manufactures high performance GRC cladding using strictly controlled production processes. Their products are characterised by exceptional material properties, all of which are verified by regular and extensive testing by our group UKAS accredited laboratory in accordance with ISO 17025:2017 standards. Manufacturing is dual compliant to both the GRCA Specification and EN 1169 and operates under a BSI certified ISO 9001: 2015 quality management system.
Syntec GRC offer a design/supply basis or a full sub-contract design, supply and install service if required.