Doha Extraco
GRCA MEMBER
GRC Manufacturer: Sprayed GRC & Premix GRC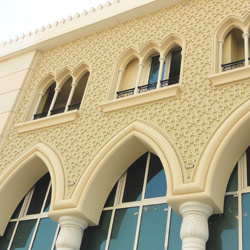 DOHA EXTRACO
New Industrial Area
Green Zone
P O Box 41253
DOHA
QATAR

Engr. Usama Hammadi
+974 4450 1454
www.dohaextraco.com
info@dohaextraco.com
Since its foundation in 2007, Doha Extraco started by enforcing the quality and quantum of its products and services, and continues the journey towards successful growing.
Its strategy determination is to be one of Qatar's outstanding, developed, top quality standard manufcaturers.
Doha Extraco's value grows with their employees, and they aim to be leading in their manufacturing industry. Doha Extraco are not just manufacturers, and they work with creative vision, transforming sand into artistic paintings that highlight Qatar's modern beauty.
They are part of the country they live in, and hope to be remarkable collaborate conveyor to the 2030 Qatari dream.
Doha Extraco are part of Qatar transformational industry. They always aim on developing and bringing in the latest technologies into the industry and implementing it by hiring the best expertise and professionals.
Doha Extraco have a variety of products, such as GRC, GRP, GRG, FIBER C, and ULTRAHIGH-STRENGTH MATERIAL, as well as POLYMER CONCRETEand all that connects to this line of productions.
Doha Extraco also work with GRP PANEL WATER TANKS of various sizes and specifications. In addition to all of the above mentioned products, they work in the field of PAINT through both sales and implementation.
Doha Extraco always aim to give a closer detailed idea about its manufactured products, that's why interested customers are always welcome to join them for a tour at the Doha Extraco premises, where you get to know all about the products and how Doha Extraco can efficiently serve your business