GRC Projects
TUPRAS REFINERY RUB BUILDING, IZMIT, TURKEY
First application with self cleaning GFRC Fibro-T®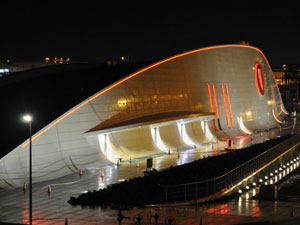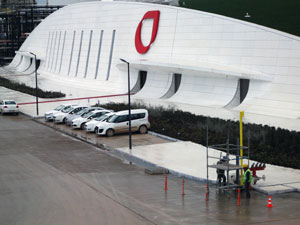 In this project Fibrobeton developed a unique glass fibre reinforced concrete solution; self-cleaning environmental friendly panels for an industrial building first time in the world.
Primary reason of the selection of Fibro-T®, self-cleaning concrete panels is its ambient conditions. Since the building is in the middle of a refinery it will endure most harsh environment such as NOx and SOx emissions. Fibro-T® panels were selected in order to prevent dirt deposition on the surface of the panels and to sustain long term whiteness.
Tüpras RUB project mainly consists of 2 levels. One is the façade of the building and the other one is the floor covering.
There were 2.800 GRC panels used for façade and 2.000 panels were utilized for floor cover. Total covered area was 8.000 m2, namely 5.000 m2 for façade and 3.000 m2 for flooring.
The thickness of the panels was 30 mm at façade and 40 mm at the floor coverings. Total construction time for GRC manufacture was 6 months.
The change of the whiteness will be monitored periodically in order to control the effectiveness of the panels according to the Hunter Lab scale.
Employer: Mesa Mesken
Architectural Project: Spazio Architects
Material Type: Fibro-T® self-cleaning GRC panels
Quantity: 8.000 m2
Year of Construction: 2014