GRC Projects
1 & 2 NEW LUDGATE, LONDON
The City of London Building of the Year, in 2016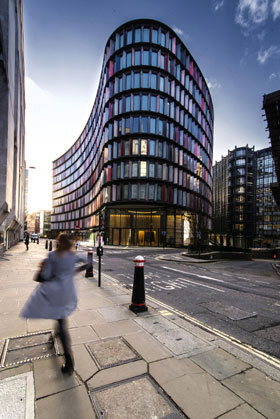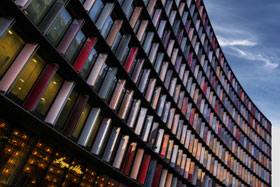 New Ludgate, a retail and commercial development located two blocks east of St. Paul's Cathedral in downtown London, has been named the City of London Building of the Year 2016.
The complex consists of two new buildings, One New Ludgate by Fletcher Priest Architects and Two New Ludgate by Sauerbruch Hutton.
The award was given in recognition of "the buildings that support the ambitions of the City of London in delivering a world-class working environment, by evaluating both the quality of the architectural design and the impact the building has had on the city street scene."
Paul Finch, Programme Director of the World Architecture Festival, chaired the jury, stating "The judges felt that an area of the City where you would not have wished to walk or linger has been transformed. An eyesore had been removed and a destination created."
GRCA Member Techrete designed, manufactured and erected the architectural precast cladding on 1 New Ludgate and GRC elements on Two New Ludgate
The GRC to 2 New Ludgate was Grade 18P, in black with an acid etch finished. The "nose" shaped panels were prefixed to a unitize window system.
There were a total of 1225 No. GRC units supplied and installed (954 No. of 1500 mm long and 271 No. of 3000 mm long). This is a total of 2,244 lineal metres of GRC ledges (4940 m2 of exposed area).
Developer: Land Securities
Main Contractor: SKANSKA
Architect, 1 New Ludgate (Concrete): Fletcher Priest Architects
Architect, 2 New Ludgate (GRC): Sauerbruch Hutton Architects
Architectural Precast Cladding - Design, Manufacture & Erection, 1 New Ludgate: Techrete
GRC - Design, Manufacture & Erection, 2 New Ludgate: Techrete
Construction Completed: March 2015