GRC Projects
INTERNATIONAL PUBLIC GATHERINGS CENTER, ISFAHAN, IRAN
Complex façade cladding in GFRC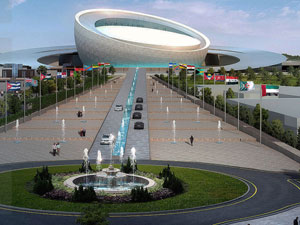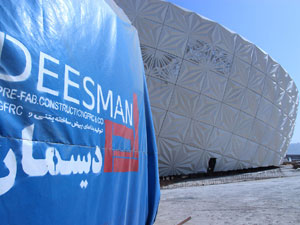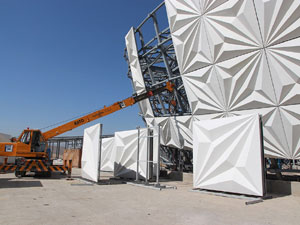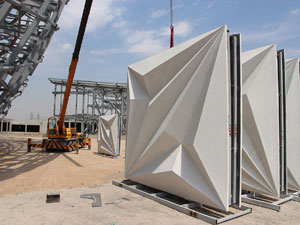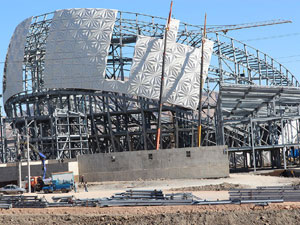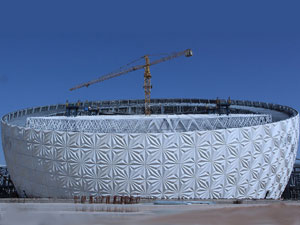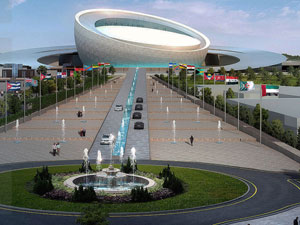 The Isfahan International Public Gatherings Center is situated east of Isfahan, along 3rd Abshare Avenue.
Isfahan is the capital of Isfahan Province in Iran, located about 340 kilometers (211 miles) south of Tehran and it's metropolitan area has a population of approaching 2.5 million inhabitants.
Glass fibre reinforced concrete (GFRC) cladding has been used for the façade of the Public Gatherings Building, and the GRC was designed, manufactured and installed by International Glassfibre Reinforced Concrete Association (GRCA) Member, Deesman Company of Tehran Road, Isfahan, Iran.
The design of the GRC façade panels to clad the building was complex and presented Deesman with a number of problems and challenges.
The height of the building sloped from 60 meters tall on one side, down to 20 metres high on the other, all within a half globular shape, to form a graceful exterior to the building. The fitting of the GRC panels to match these slopes, curves and each other, was a particular challenge which Deesman had to overcome.
Pre Designer: Atkins Co.
GFRC Façade Design, Manufacture & Installation: Deesman Co.
Total Quantity: 8500 m2 GFRC cladding
Year of Construction: 2014