GRC Projects
CAPITAL HILL, MOSCOW, RUSSIA
Zaha Hadid Architects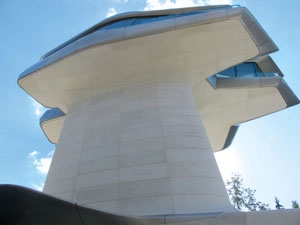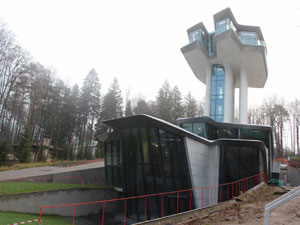 The famous architect Zaha Hadid's Capital Hill Project located in Moscow, has been defined as a "Fairy Tale House", due to its different and difficult design, whose applicability was discussed in world architecture milieus. Fibrobeton, completed all internal and external façades with the Fibro-Multiform® Technology, and as a result earned "The Best Project" award in the 16th World GRC Congress.
Step by step Fibrobeton application at Capital Hill:
During the design stage, the architectural team was contemplating natural stone, GFRC and GFRP for the façade, or pre-cast concrete usable in external façade. During the summer of 2008, after seeing the first mock-up made by Fibrobeton, the architect decided that the best alternative to put the project into practice was GFRC.
Contract was signed in the beginning of 2010. Primarily, all the elements were designed in accordance with their transport, assembly and production requirements. Wind, earthquake and snow loads had a great effect on design criteria. The most important load in the project located in Moscow was the snow load. Because of this, the dimensions of of production had to be calculated and adjusted, and unique solutions were developed by increasing the thickness of the material.
1.100 molds were made in order to produce a total of 1.100 individual panels. All panels were manufactured in a unique manner, and according to their own CAD details. Special GFRC gutter elements, with very sharp edges were produced for the Banya building.
3D, digitally designed panels, which are all different respectively were produced only after being checked countless times with wind, snow and fire tests.
The first mock-up assembly was completed ontime and approved in March 2010. The assembly of roof panels on the third floor began within 90 days in Moscow. Each piece was meticulously examined before, during and after the installation. Due to the high-complexity of the building, only one team could work at a time.
After the third floor roof, the assembly of the neck section of the tower connecting the second and third floors of the building began. This part of the project was completed in 3 months.
A second mock-up was made in Turkey on December 2010, for the joint places and aluminum frame connections. Also, during the month of December, the production of approximately 150 new panels was carried out to fit new details, since the investor decided to make a big change concerning the roof area of the second floor.
The side plating of the security building and main building were completed during the summer of 2011.
Each piece was assembled in a manner suitable for removal, for potential future arrangements.
In this project, the Fibro-Multiform® Technology became one of the factors of the design. While the main building blocks, which give the building its unique appearance, were generating solutions concerning façade details, this technology made extremely significant contributions to both the designer and the main contractor.
For façade works:
~3500 m2 roof and facade cladding
~1100 panels
~1100 moulds
Project working
Moulding
Manufacturing
Installing
Finishing
Employer: Ant Yapi
Architectural Project: Zaha Hadid Architects
Material Type: Fibro-Multiform® Technology
Quantity: 3500 m2 roof and façade cladding
Year of Construction: 2011