GRC Projects
CREDIT LYONNAIS, 30 CANNON STREET, LONDON
Newly listed post-war office building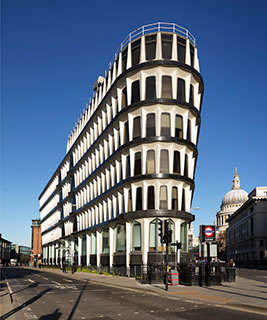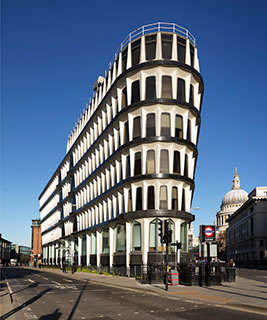 "Credit Lyonnais, 30 Cannon Street, London, was the first building internationally to be fully clad in double skinned panels of glass-fibre reinforced cement (GRC)."
"An office building of 1974-7 by Whinney, Son & Austen Hall, 30 Cannon Street expresses sculptural quality through its expressive and assured design, its splayed plan and canted profile."
In 2015 English Heritage recognised the significance of the building and stated "The building has been listed at Grade II due to its strong stylistic and functional affinities with the Victorian commercial architecture of Queen Victoria Street."
Some 1900 double-skin panels were made for this seven-storey building. The light weight of the hollow-section GRC panels enabled the architect to slope the walls outwards. The combination of this plus the slim nature of the panels meant that extra square metres of valuable central London office space were created.
In 2015, it remains a landmark building whose historic importance has now been recognised by
a Listing by English Heritage.
All quotes are from English Heritage, 2015.