GRC Projects
ANTHILL RESIDENCE, ISTANBUL, TURKEY
Reaching 690 feet in pre-cast façade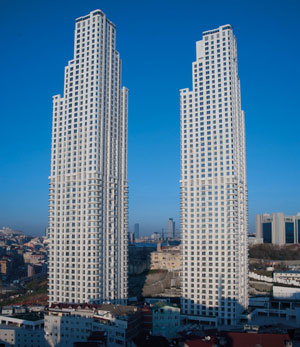 Fibrobeton has made its mark in the Istanbul skyline by completing work on the Anthill Residence Project, Turkey's tallest pre-cast clad buildings, two 55-storey towers reaching 210 meters (690 feet).
Upon completion, Fibrobeton broke its own record of highest pre-cast façade application, the previous buildings being Metrocity and BJK Selenium Twins
The Anthill towers were designed by MM Proje and constructed by Ant Yapi. They are the 2nd tallest structures in Istanbul
Employer: Ant Yapi
Architectural Project: MM Proje
Material Type: Heat-Insulated Fibrofombeton®
Quantity: 67.000 m2
Year of Construction: 2011
.
.