GRC Projects
ARGENT'S KING'S CROSS DEVELOPMENT, LONDON, UK
GRC panels to clad balconies and create distinctive fins up the façade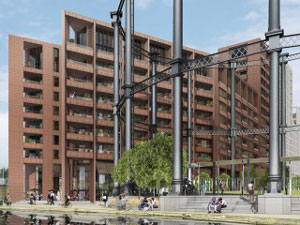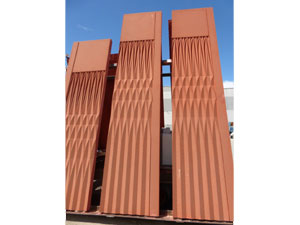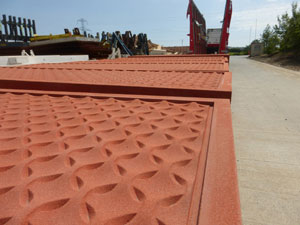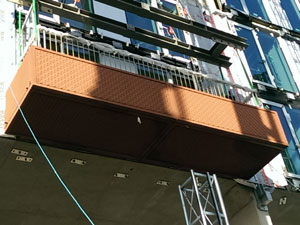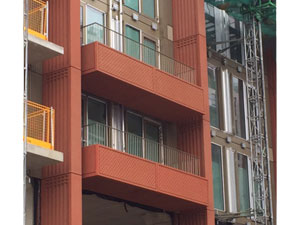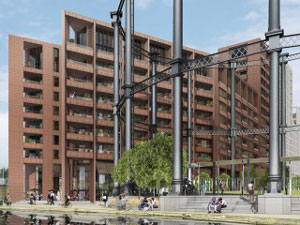 Work on site at Techrete's fifth building at Argent's Kings Cross development was well under way in the summer of 2015. This unusual project utilises deep red coloured precast panels to clad balconies and create distinctive fins up the façade. Techrete are subcontracted to Kier and Niall McLaughlin is the Architect
Techrete have a history of creating interesting, sculpted panels with the Architect Niall McLaughlin, after we worked together to produce the Elgin Marble panels at the Athletes Village for London 2012.
Whereas the Elgin Marble panels accurately recreated the carved stones decorated with the horses and men in a triumphant parade, at King's Cross the design of the panels is of sharp geometric patterns. The pattern is cast into the of the panels through the use of highly detailed moulds developed and manufactured by Techrete in their Irish factory.
The image of the GRC panels in the yard at Techrete's Irish factory awaiting finishing and delivery show the intricate details developed by Niall McLaughlin in association with Techrete.
Techrete are proud to have been involved with Argent's impressive redevelopment of the King's Cross area. To date, Techrete have been involved with Plots T6, B2, B3, B4 and T1 and imminently work will also commence on site at Porphyrios Associates plot B6.
Client: Argent.
GRC Façade Design: Niall McLaughlin in association with Techrete.
GRC Façade Manufacture: Techrete.
Year of Construction: 2015